CompTIA Project+ Certification Training Course
Are you ready to take your project management skills to the next level? At CareerMaker, we offer comprehensive CompTIA Project+ certification training designed to help you excel in project management. Our training program is specifically tailored to provide you with the knowledge and practical expertise required to succeed in the dynamic world of project management.
For IT professionals who need to manage less-complex, smaller projects as part of their other work responsibilities but still possess the fundamentals of project management, CompTIA Project+ is the right certification. Because it covers fundamental project management principles outside the purview of just one methodology or framework, CompTIA Project+ TRAINING & CERTIFICATION is more adaptable than other certificates.
Years in IT training industry
- CompTIA Project+ Certification
COURSE HIGHLIGHTS

-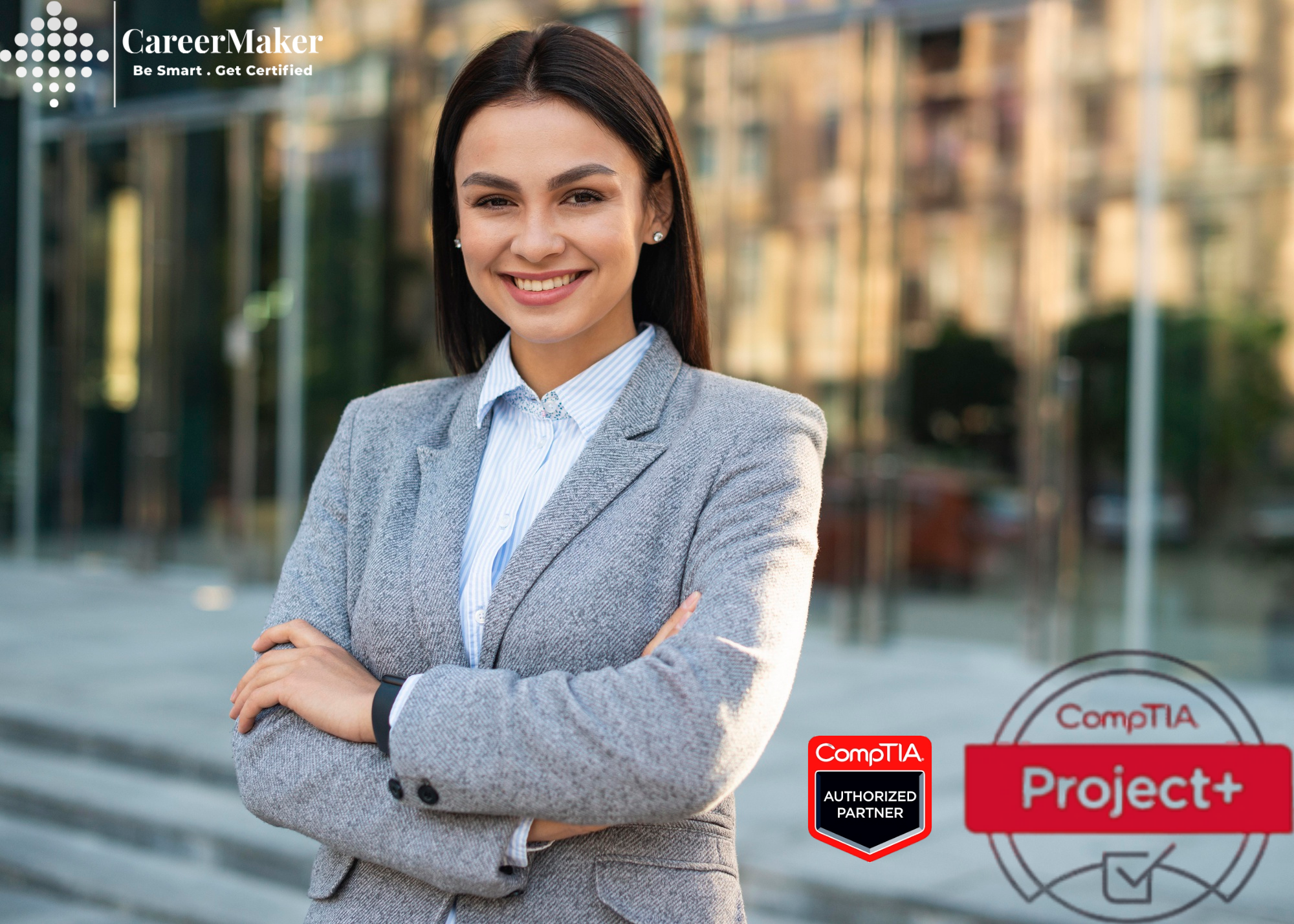 Earning certifications, including the Project+ credential from CareerMaker, can provide professionals with numerous benefits.
Basics of Project Management
Include a summary of the project's phases, schedules, roles, duties, cost management, and other factors.
Project Restrictions
predict the effects of various constraint variables and influences, and comprehend risk management techniques.
Project Resources
To monitor and improve project performance, compare and employ cutting-edge project management solutions.
Hard Skills
Learn crucial soft skills like expectation management, teamwork, conflict resolution, and more.
Preparation for exams
Learn ideas and terminology, and get professional guidance and pointers to pass the CompTIA Project+ exam with ease.
- Upcoming Live BOOTCAMP CALENDAR -
| | | | | | |
| --- | --- | --- | --- | --- | --- |
| 07:00 AM-11:00 AM(CST) | Weekend Morning | August 26 2023- September 24 2023 | Live Online | ENROLL NOW | INQUIRY NOW |
| 07:00 PM-11:00 PM(CST) | Weekend Evening | August 26 2023- September 24 2023 | Live Online | ENROLL NOW | INQUIRY NOW |
| 10:00 AM to 06:00PM(CST) | Weekdays | August 28 2023- September 01 2023 | Live Online | ENROLL NOW | INQUIRY NOW |
August 26 2023- September 24 2023
07:00 AM-11:00 AM(CST)
Weekend Morning
Live Online
August 26 2023- September 24 2023
07:00 PM-11:00 PM(CST)
Weekend Evening
Live Online
August 28 2023- September 01 2023
10:00 AM to 06:00PM(CST)
Weekdays
Live Online
Do You Have Any Questions.Feel Free to contact us Today?
-CompTIA Project+ Certification Course Description -
The most in-demand soft skills, like team building, conflict resolution, communication, negotiation, and managing expectations, are covered in the CompTIA Project+ training program. Comparable to PMI's CAPM as a primary-level project management credential is CompTIA Project+. Your professional objectives will be aided by this qualification.
The CompTIA+ course from CareerMaker covers every stage of a project's life cycle, from conception to execution, approval to closure. It certifies your project management abilities and aids in your timely and cost-effective project completion.
If you're interested in a career in project management, our course will give you the knowledge and abilities you need to improve your employment options.
The ideal Target Audience for the course:
The Project+ certification confirms a wide range of knowledge and abilities in project management that are necessary for many different vocations and tasks. These are a few of the jobs:
Business Analyst
Team Leader
Project Team Member
Project Coordinator
Manager
Director
Any professional who wants to learn more about project management or get the necessary skills to apply for project management positions may find this CompTIA Project+ training to be helpful.
Pre-requisites for CompTIA Project+ Certification
Some experience with project management
Relative familiarity with the project concept
CompTIA Network + and at least two years of experience managing IT security.
Request for more Information
-CompTIA Project+ Certification Syllabus -
Defining Project Management Fundamentals
Identify Project Management Basics
Describe the Project Life Cycle
Identify Organizational Influences on Project Management
Define Agile Methodology
Initiating the Project
Identify the Project Selection Process
Prepare a Project SOW
Create a Project Charter
Identify Project Stakeholders
Planning the Project
Identify Project Management Plan Components
Determine Stakeholder Needs
Create a Scope Statement
Preparing to Develop the Project Schedule
Develop a WBS
Create an Activity List
Identify the Relationships between Activities
Identify Resources
Estimate Time
Developing the Project Schedule
Develop a Project Schedule
Identify the Critical Path
Optimize the Project Schedule
Create a Schedule Baseline
Planning Project Costs
Estimate Project Costs
Estimate the Cost Baseline
Reconcile Funding and Costs
Planning Human Resources and Quality Management
Create a Human Resource Plan
Create a Quality Management Plan
Communicating During the Project
Identify Communication Methods
Create a Communications Management Plan
- CompTIA Project+ Certification Jobs & Salary -
- Benefits Of Choosing CareerMaker Solutions ? -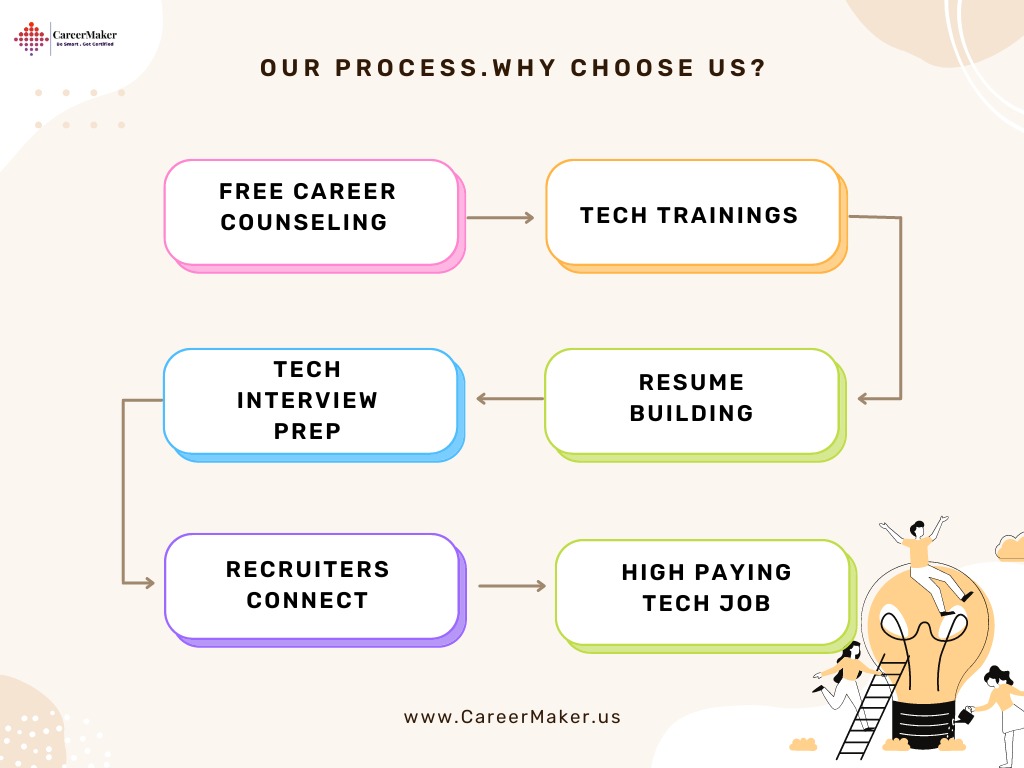 - Our World-Class CERTIFIED INSTRUCTIOR -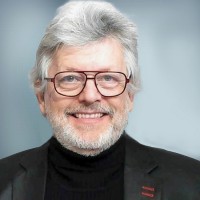 I bring knowledge and skills to beginners and senior practitioners in project management and project business, improving the results of projects, the happiness of internal stakeholders and clients, and the bottom lines of companies doing projects for paying customers.
Oliver F. Lehmann
PMI Instructor
- Certification of Course Completion -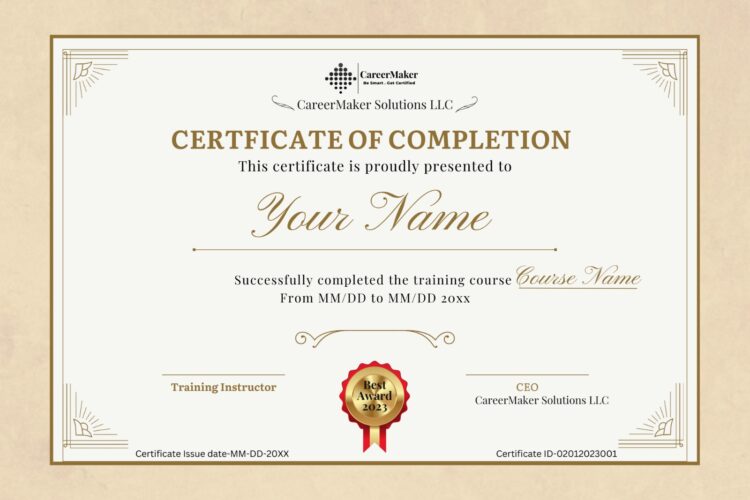 -Excel in Project Management
Today

-
Don't miss out on the opportunity to achieve project management excellence with our comprehensive CompTIA Project+ training. Join us today and gain the knowledge and skills needed to excel in the field of project management.
Call Us Today to learn more about our training program, course schedules, and enrollment options. Start your journey towards becoming a successful project manager today!