SAFe Product Owner / Product Manager in Texas
The tactical duties of the SAFe® Product Owner and SAFe® Product Manager (POPM) roles in the Agile Release Train are covered in this course. The training also equips you with the knowledge and methods required to collaborate successfully with distributed teams in remote settings.
Learn how product owners and managers should collaborate to provide the best results for customers and the business. You will learn how to use the Scaled Agile Framework® to take a customer-centric approach to product development and deliver more value, quicker, through the SAFe POPM course. This course covers topics such as the daily responsibilities of POs and PMs, working together with engineering teams and business stakeholders, writing epics, features, and stories, and how to prioritise, design, create, test, and deliver products with more efficiency.
View Course Preview Video
- Career benefits with POPM certification -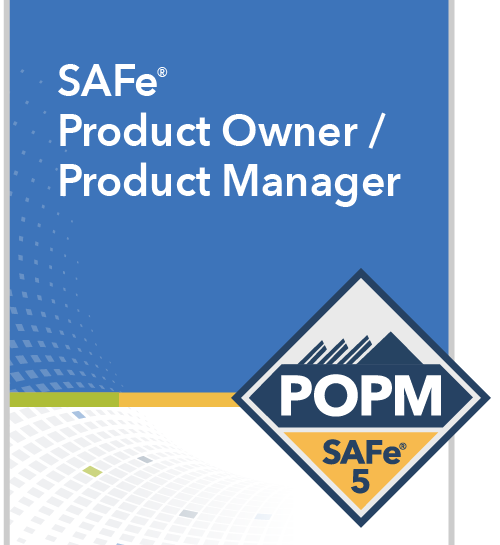 The key features of training for the POPM Certification with CareerMaker:
Explain the responsibilities of the product manager and owner.
Adapt the PO/PM positions to the principles and ideals of SAFe Lean-Agile.
Break down epics into features, and then into stories.
Control the backlogs for programmes and teams.
Work together on estimating and forecasting tasks with Agile teams.
Consider customer demands when planning the programme incrementally.
Implement the programme increment and provide ongoing value.
- Upcoming Live BOOTCAMP CALENDAR -
Upcoming Live BOOTCAMP CALENDAR
-Who should attend this Course -
Request for more Information
-What you will learn in this Course -
Becoming a Product Owner/Product Manager in the SAFe enterprise
SAFe for Lean companies, please describe
Why Value Streams?
Describe how Lean-Agile decision-making works.
Describe the duties of the product manager and owner.
Preparing for PI Planning
Give details about the programme increment
Explain the Vision.
Planning work using road maps
Develop useful features
Control the Kanban and programme backlog
Leading PI Planning
Communicate the Vision
Establish PI Objectives
Manage dependencies
Manage risks
Executing Iterations
Implement user stories
Schedule the iterations.
Utilize Team KANBAN to control the flow
Keep streamlining the backlog
Take part in the retrospective and iteration reviews.
Support Release on Demand and DevOps
Executing the PI
Get involved in the PO sync
Take part in the system demonstration
Innovate throughout the PI
Examine and Adjust
Need Customized Curriculum?
- Our World-Class CERTIFIED INSTRUCTIOR -
- Certification of Course Completion -